Next meeting – Please join us!
Recent News…
You can read updates about the restoration process on the In the Media page.
---
The Forgotten Cemetery
On the near east side of Conroe, Texas, is a small cemetery that has been lost to human memory, but it has not been forgotten by nature.
Located on Tenth Street in Conroe, Texas, just north of Highway 105, between Oakwood Cemetery and the old Conroe Normal & Industrial College is a African-American cemetery that has no name, but the African-American residents of old would refer to it as the Community Cemetery, or simply the Conroe Cemetery.
This historic cemetery has graves dating back to the 1890s and include emancipated slaves, railroad workers, saw mill workers, and the only confirmed Buffalo Soldier buried in Montgomery County.
Unfortunately this cemetery is so overgrown that hundreds of people drive past it daily and have no idea it is there.
The Conroe Community Cemetery Restoration Project (CCCRP), a 501(c)(3), is dedicated to seeing this forgotten piece of history restored and preserved so those who are interred there may once again be honored and future generations can learn this lost history of Conroe. It is also our desire to locate and work with the descendant of those buried in this cemetery so they may again have a connection with their past.
---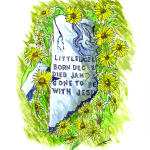 The above painting is a watercolor of Little Luceil's headstone, a young girl buried in the Conroe Community Cemetery, painted by Jim Kuykendhall of Jim Kuykendhall Fine Arts. Mr. Kuykendhall graciously donated the painting to the Conroe Community Cemetery Project.