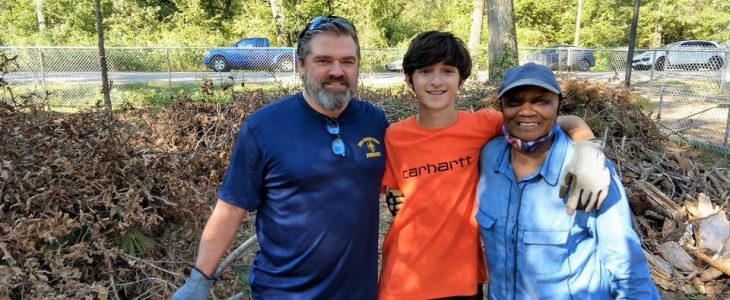 The Conroe Community Cemetery Restoration Project will be cleaning the Conroe Community Cemetery again on Saturday February 6, 2021. We will meet every two weeks after this to continue cleaning up the rest of the cemetery: February 20th, March 6th & 20th and April 3rd & 17th. As always weather permitting so watch our Facebook Page for Events Updates.
Date: February 6, 2021
Time: 8:00 AM – 3:00 PM
Where: Conroe Community Cemetery, 439 N. 10th St., Conroe, Texas 77301
***Due to Covid 19 Please bring a mask and your own lunch. We will provide bottled water and snacks. We have 4 acres to work in so social distancing is not an issue. Family Units can work closely. A restroom will be available courtesy of Heritage Sanitation.***
Wear long pants, long sleeves, gloves, sturdy shoes and a hat.
You will receive a brief training session before you begin and sign a waiver.
Because of the unique nature of the cemetery and the safety of our volunteers we will only use hand tools such as rakes, hand pruners and small tree saws. !!NO POWER TOOLS!!
Don't cut any plants marked with orange ribbon.
Black cemeteries have typically used plants, objects & offerings to mark graves. This may be our only evidence of a grave. If it's disturbed, it is lost forever.
Don't move any objects you find, they may mark a grave. Ask for a supervisor to evaluate what you find.