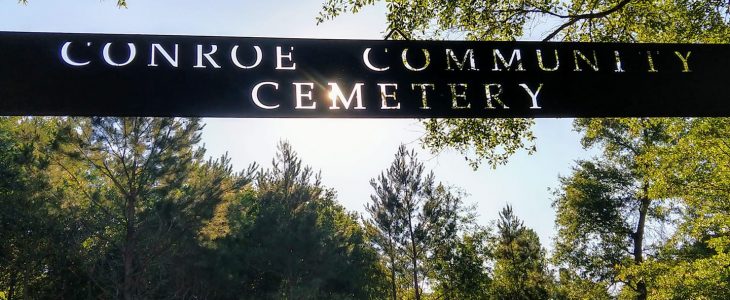 Join the Conroe Community cemetery Restoration Project for an official sign dedication ceremony on November 7, 2020, beginning at 10:00 AM.
The sign was installed back in May and a dedication had to be postponed due to COVID-19.  It will be a short 15-20 minute event with speakers, Jon Edens, President CCCRP, John Meredith, Treasurer CCCRP, Larry Foerster, Chairman of the Montgomery County Historical Commission and a dedication prayer by a community pastor. We hope to have a Buffalo Soldier representative but we are still working on that.
It has been at least 128 years, if ever, since the cemetery has had a sign and this is a significant milestone in the effort to restore this abandoned African American cemetery in Conroe. 
The cemetery is located at 439 N. 10th Street, Conroe, Texas 77301.  We ask that everyone come with a mask but if you forget we will have them available.
This will also be a cleanup day, beginning at 8:00 AM and ending at around 3:00 PM.
Help the CCCRP and Boy Scouts continue the Fall clean up season at the Conroe Community Cemetery. We will finish raking, and cut small brush and vine stumps in the area already cleaned. Others can begin the clean up effort with loppers and hand tools in the area where we finished in the Spring.
We will meet every two weeks after this to continue cleaning up the rest of the cemetery: Nov. 21 and Dec. 5.
Come out and support Carson Pyle's Eagle Scout Project!
As always weather permitting so watch the Facebook Page for updates.
Due to Covid 19 Please bring a mask, your own water and lunch. We have 4 acres to work in so social distancing is not an issue. Family Units can work closely. A restroom will be available courtesy of Heritage Sanitation.
Wear long pants, long sleeves, gloves, sturdy shoes and a hat.
You will receive a brief training session before you begin and sign a waiver.
Because of the unique nature of the cemetery and the safety of our volunteers we will only use hand tools such as rakes, hand pruners and small tree saws. !!NO POWER TOOLS!!
Don't cut any plants marked with orange ribbon.
Black cemeteries have typically used plants, objects & offerings to mark graves. This may be our only evidence of a grave. If it's disturbed, it is lost forever.

DON'T MOVE ANY OBJECTS AT THIS TIME BECAUSE THEY MAY MARK A GRAVE. IF YOU DO YOU WILL BE ASKED TO LEAVE!
The Facebook event page for the cleanup can be found at https://www.facebook.com/events/677146203227199/
The Facebook event page for the sign dedication can be found at https://www.facebook.com/events/408603653482993