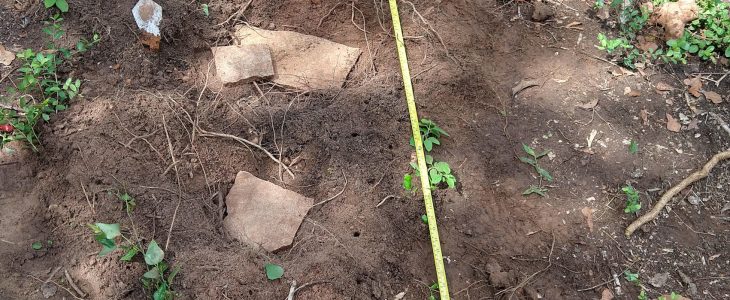 25 September 2020
Because of the raking that has been done by the Boy Scouts and because the recent rains cleared off loose soil, 2 footstones were found and several more broken pieces of a headstone were found.  
The footstone for Little Luceil Drake was found. She was born 12/25/1900 and died 1/7/1901
Another footstone was found adjacent to the foot of James C Pitts grave. The initials are G.P. and this is the second footstone with those initials. Both G.P. footstones and a M.P. footstone are aligned in an N-S row.
Grave Ukn 91 was discovered in May. Further probing today found a total of five pieces made of the same stone.
They are aligned E-W near footstone M.P.  The pieces all fit together. There are more missing pieces to be identified. None of the existing pieces have any names or dates carved into them. This is probably the front side since some of the edges are beveled.