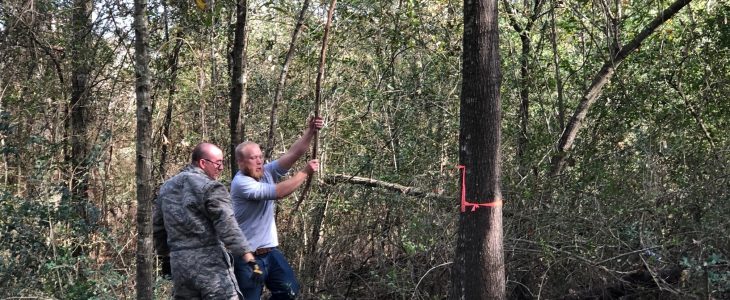 The Conroe Community Cemetery Restoration project started in October, and volunteers on Dec. 7 continued cleanup of the cemetery, that's located off of North Tenth Street in Conroe.
John Meredith, Treasurer of the Conroe Community Cemetery Restoration Project Board of Directors, said Dec. 7 marked their fifth cleanup, and they've had great weather and been able to be out at the Cemetery every two weeks.
"We've cleared back about 200 feet, an area 200 feet by 100 feet on the south side of it, and it's turned up three new graves that we hadn't seen before," said Meredith.
Meredith said they've uncovered around 65 graves since the cleanup started in October, and a lot of them have been shallow depressions.
"As we clear, we're seeing more of these little depressions, and there maybe a headstone or something. We don't know yet, hopefully we find something, but a lot of them will just remain unidentified, said Meredith.  "We're up to around 30 graves that we have a name that we've got associated with them. There's another 25 that are either a shallow depression or has some kind of a marker. There's about ten that have a marker that we don't know who it is."
Meredith said there's still a lot of work that needs to be done.
"Once we get it cleared, we'll come in with cadaver dogs and see if some of these depressions we get a hit on, is that really a grave or is that just where some racoon was digging a hole, or something like that."
Meredith said some of the areas have a lot more trees but not as much undergrowth, and the cleanup moves faster in those areas. He said Integrity Landscaping is coming out with chainsaws to remove the trees.
Meredith said Dec. 7 is their last cleanup of the year, and they'll continue the cleanup in the new year.
"We'll start back again. We've got to get these brush piles out of here and we're still working on the logistics of that, as to how we get it out, whether we pay for it or we've got a couple of volunteer groups that have said they might be able to help us out on it," said Meredith.
Meredith said the number of volunteers for the cleanup has increased every two weeks, saying Nov. 23 was their biggest number, with 21 volunteers.
"We've grown from about 13 to 15 people 2 ½ months ago, to where we're getting up to 21 or so, which is just about right, manageable wise, for keeping an eye on it and making sure nobody gets hurt chopping a tree down and falling on somebody," said Meredith.