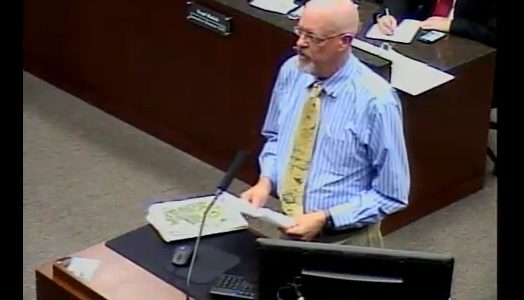 John Meredith, Treasurer of the CCCRP, went to the Conroe City Council March 9, 2017, meeting to request the City of Conroe to take possession of the land the cemetery is located on so the CCCRP can begin the clean-up, restoration, and preservation of this historic Black cemetery.
With many cemeteries people can simply go in, clean up the weeds and brush, and there is no problem.  The Conroe Community Cemetery is in such a bad condition, with many dead trees that pose a danger to anyone cleaning up in the area, that possession or control, not ownership, of the property is needed for the extensive amount of work that is required.
Texas Health & Safety Code Title 8 Sec. 713.009,  Local Possession and Control of Unkempt or Abandoned Cemetery states:
"a municipality with a cemetery inside the municipality's boundaries or extraterritorial jurisdiction may, by resolution, take possession and control of the cemetery on behalf of the public if the cemetery threatens or endangers public health, safety, comfort, or welfare."
Section 713.009 goes on to state:
"If a municipality does not take possession and control of a cemetery…, a district court on petition of a resident of the county in which the cemetery is located shall by order appoint a willing nonprofit corporation organized under the Texas Non-Profit Corporation Act (Article 1396-1.01 et seq., Vernon's Texas Civil Statutes) to act in place of the municipality to protect the public health, safety, comfort, and welfare."
And this is where the Conroe Community Cemetery Restoration Project comes in.  CCCRP approaching the City Council is the first step in this process.  If the City of Conroe decides to take possession of the cemetery then the CCCRP can begin its physical work on the cemetery; if not, then they will approach the local District Court for permission to begin.
Video of Mr. Meredith follows the lovely, young lady praising the City of Conroe.