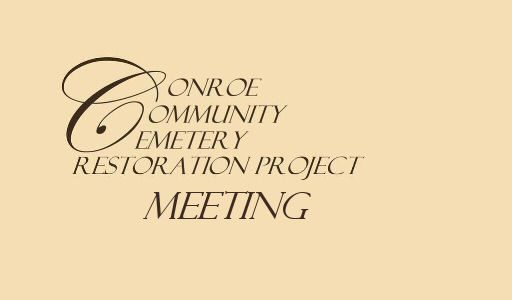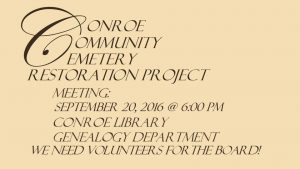 The CCCRP meeting in August to seat a Board was not successful since there were not enough people present to volunteer to be on the initial Board, so there will be another meeting on September 20, 2016 at 6:00 PM to try again. The meeting will be held at the Conroe Library in the Genealogy Department.
You can RSVP on our Facebook page or simply show up to take part.
The Bylaws have been approved and signed, now we simply need volunteers who are willing to work on the Board of Directors and oversee this very important project. If you, or someone you know is willing to participate at the organization level and help guide this meaningful endeavor, please attend this meeting.
CONROE COMMUNITY CEMETERY RESTORATION PROJECT
20 SEPTEMBER 2016
MEETING AGENDA
Call to order
Appointment of temporary chairperson and secretary
Report of filing of Articles of Incorporation
Report of filing of Employee Identification Number (IRS Tax ID)
Report of Formation Committee regarding Bylaws and adoption of Bylaws
Appointment/Election of Officers
Establishment of accounting year
Authorization to establish a bank account in the Corporation's name
Establish plan for immediate future
Establish any committees as needed
Any other business not covered
Set next meeting date
Adjournment
Again, YOUR volunteering spirit is needed!